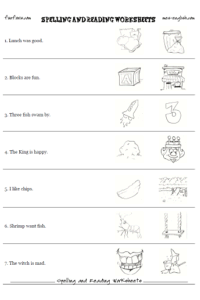 Fun Fonix.com offers
free reading worksheet generators, phonics printables makers, a free spelling worksheet maker, and spelling activity/phonics activity generator
to use as
resources for phonics lessons, reading lesson plans and printable materials for phonics activities
. By using any of these resources you agree to the MES end user license agreement. Whether you read it or not.

Read and choose the correct picture worksheets: Write a sentence or a few sentences about an object. Then select the correct picture plus a 'dummy' or incorrect picture. Students will circle the image that matches the reading.



The reading worksheet maker is a phonics resource that allows you to
create reading worksheets or small reading quizzes on any theme with pictures
. You can write in sentences explaining the picture and students would read the sentence or word and select the correct picture for the sentence.

Once your game board has been generated, go into the 'file' menu at the top left of the browser and choose print.

These should print fine if you are printing on A4 paper or Letter. However, if the game is printing on two pages, go to 'file' and select 'page properties.' You'll see an option for margins. Reduce the top and bottom margins and then close that window. Now you are ready to print.

These worksheet makers come courtesy of Tools for Educators - find these worksheet generators and many more with 1000s of images to choose from.