offers
free phonics crossword makers for preschool, kindergarten teachers, elementary school teachers and language teachers
to make
spelling games and phonics crossword puzzles for lessons, lesson plans and K-6 printable word puzzles for classes
.

The allow you to
create crossword puzzles with pictures and/or text as hints.
text hints - a regular text only crossword maker
Crosswords with images as hints!
- ee, ea, ai, oo, oa ...
consonant digraphs crossword - ch, sh, th, ng ...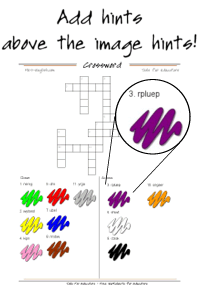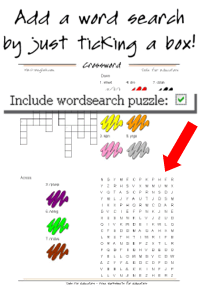 You can use up to 15 images for your crossword with images. You can use less by leaving the puzzle text box blank.

If the puzzle times out or you get a server 500 error, just hit the browser refresh button. The maker will try again. If after several attempts the maker is still unsuccessful you may need to alter the puzzle text to successfully build your crossword.

This worksheet generator comes courtesy of another MES site, Tools for Educators.com. Tools for Educators has thousands of images to choose from for making your crossword puzzles and it contains many other worksheet generators.

By using any of these resources you agree to the MES end user license agreement. Whether you read it or not.