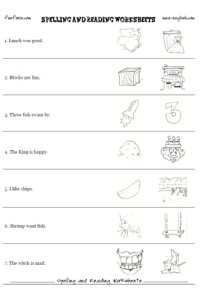 Phonics worksheets and free printable phonics workbooks for kids
: You will find the Fun Fonix series but much more than that on this site. There are 10+ worksheet makers and printable game templates you can use to make custom worksheets, and an additional section of free online phonics games for students.
Fun Fonix is a phonics warehouse of resources and materials that are designed to move quickly through phonics rules. These are ideal for teachers with limited time for phonics instruction or for teachers or parents who need additional materials for learning and practice.

The Fun Fonix Workbooks: Below is a quick list of each workbook, but for more information about the series, please see the Fun Fonix Workbooks page.
Fun Fonix ABC: letter introduction and alphabet worksheets
- letter tracing activity, vocabulary and lettter association, uppercase and lowercase recognition, writing skills builder
Fun Fonix Intro: hard consonants and short vowels worksheets
- letter writing practice activity, phonics rule practice, fun exercises for solidification, final review section with a few additioanl activities per letter
Fun Fonix Book 1: midvowel vowels, cvc worksheets
- sound recognition activities, phonics rule practice section, build a word exercises, mid and final review sections and more
Fun Fonix Book 2: consonant digraphs ch, sh, th, ck, ng, qu, wh
- sound recognition activities, vocabulary building exercises, tracing and reading pages,a writing section and more with each unit.
Fun Fonix Book 3: long vowels with silent e worksheets
- sound recognition activities, trace and read activities, a game with each unit, reading comprehension exercises, a writing practice section and more
Fun Fonix Book 4: vowel digraph and diphthong worksheets
- long vowel vs. short vowel sound recognition activity, short reading quiz, writing exercises, reading comprehension passages and more with each unit

Make your own custom phonics worksheets! The phonics worksheet generators are 100% customizable and you can choose from hundreds of images from the phonics series to make the perfect worksheet for your students. The templates can be used in many different ways. Check each worksheet's main page for details.